An anniversary is always special moments in a couple's life whether it is a 1st or 25th wedding anniversary. There are endless memories during this time spend between partners to celebrate beautiful occasions there are countless ways to show your love and affection toward each other. The anniversary comes only one time in a year to make it memorable do small things to make your soulmate happy. You don't have to do extraordinary things to make him happy just a sweet message can make his day.
Surprise your husband to let him know that you are so lucky to have him as the boyfriend and life partner. Small gestures such as wrapping up anniversary gifts or greeting card will make his entire day.
Writing a small note with a lovely message or making his favorite dish before he wakes up will be cherry on the top. It will help your relationship to grow stronger. These heartfelt marriage anniversary quotes for him is the best way to celebrate this moment.
Below is our hand-picked collection of quotes or pick your favorite best message and spread the love.
Heartfelt Wedding Anniversary Wishes for Husband
Best anniversary wishes for a husband.
Congratulations on successfully spending one year together from The Best Wishes team. We have collected happy anniversary quotes for a husband to make him feel special and bring a smile on his face. Don't hide your feelings this is the moment every couple waits for this special day. A well-crafted anniversary message will touch his heart and let him know how much he means to you. Below are the "Happy anniversary" messages and quotes it will help you to express your feelings.
Thank you for being my best friend, my lover, my husband, my soulmate, my superhero. Happy anniversary!
Another new year, to create lots of memories and I have seen the truth in your eyes, you also remind me of my dad. I'm so lucky you have all the qualities that he uses to have. Happy anniversary!
You are amazing my love, my Aladdin, my angel, my heartbeat, and my warrior. I knew you are the one for me when I first saw you. I love you.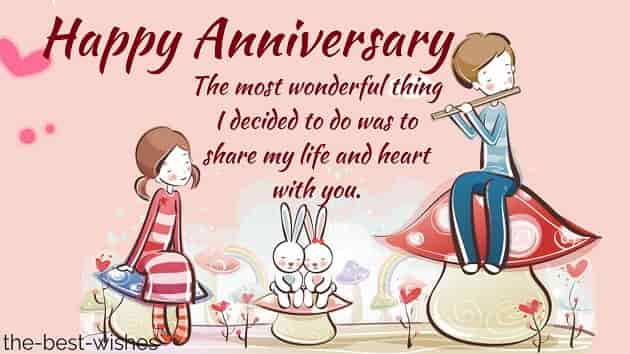 Wedding anniversary wishes for a husband.
Every day my love is getting stronger for you. Another year filled with love and I will love you forever till the ends of the universe.
Another magical year, you have been perfect as always. As a life partner and dad for our kids, I'm speechless, I know our rest of the life, lots of happiness, is still waiting for us and I feel safe in your arms. Happy anniversary, my sweetheart.
My life has become happier and better with you, without you, I'm incomplete. Thank you for making me a disciplined and better person. Happy anniversary!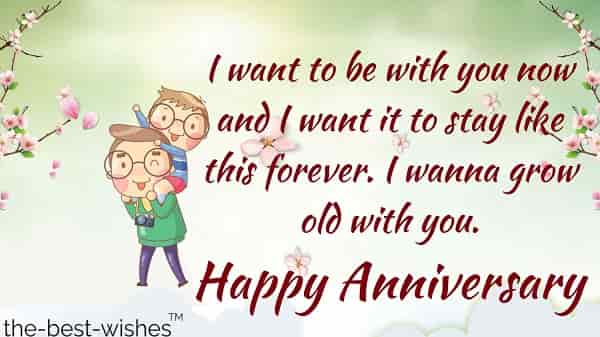 Anniversary message for a husband.
You are the one who has touched my heart. Nobody can replace you I love you.
I fell for you because you have the purest soul and for always being real. I love you for what you are.
I love you, honey, till my last breath. It wouldn't be possible without you.
Thank you for always supporting me and encouraging me to stay motivated during the hardest time and for being my shadow.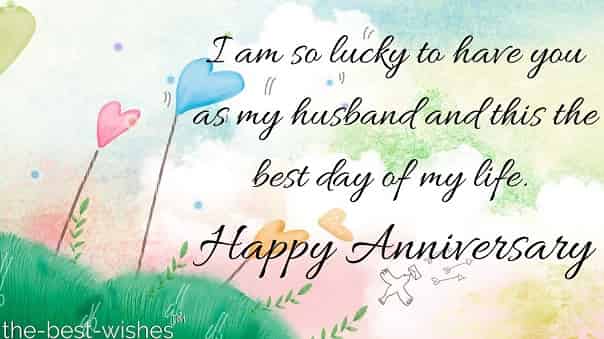 Happy marriage anniversary wishes for a husband.
I don't want our marriage to be perfect but as the best adventurous and memorable ride of my life that two people can have.
You have always made me feel so lucky and special. Thank you for not changing yourself throughout these days and for being the best husband. Happy anniversary!
If someone asked me to describe you my love in one word I'd say, perfect.
Sometimes destiny unexpectedly surprises you with someone that change your life forever and unknowingly takes your heart with them.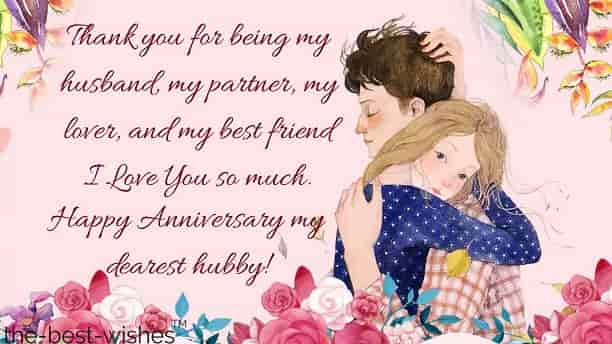 Romantic happy marriage anniversary wishes for a husband.
After meeting you, I came to know how lucky I'm to have you. Thank you for loving me so much.
You are my heartbeat, you are my life, and the reason behind my smile.
When I say I love you, I mean it, I am reminding you honey that you are the source of my joy.
I'm passionately in love with you. You are the center of my world.
Love is the best feeling which can't be express in a single word. It brings peace to our minds and soul. I'm so excited to spend my entire life with you.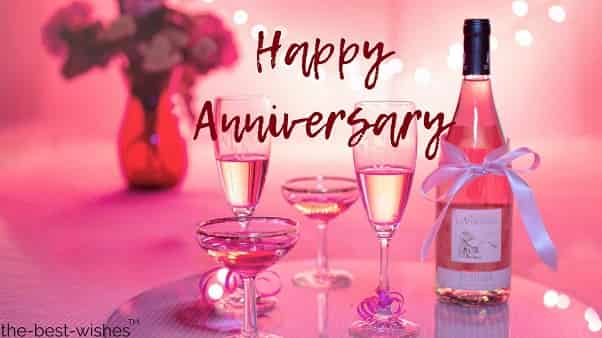 Happy anniversary.
Since day one we met, my all fairy tale dreams have come true. Thank you for everything. It is the best day of my life. I Love You and Happy anniversary to you, my hubby.
I'm so blessed thank you God for giving me the best husband! Happy anniversary darling.
When I saw you, I started believing in love at first sight. I will always love you, my baby, and I will stand with you in every difficult time.
Thank you for being there, when no one uses to understands me, and no one else understands me the way you do.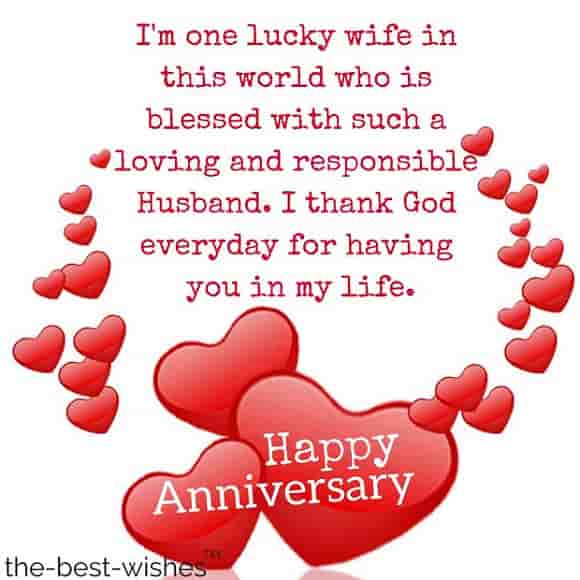 Romantic anniversary messages for a husband.
You're the only one with whom I want to spend the rest of my life. Thank you for choosing me as your Soulmate. Happy wedding anniversary!
The bride is always right, and the groom is a husband in a successful married life.
You are my present, and future thank you for making me feel special each day that are not our anniversary.
I Love You Yesterday, Today, and Tomorrow forever I will.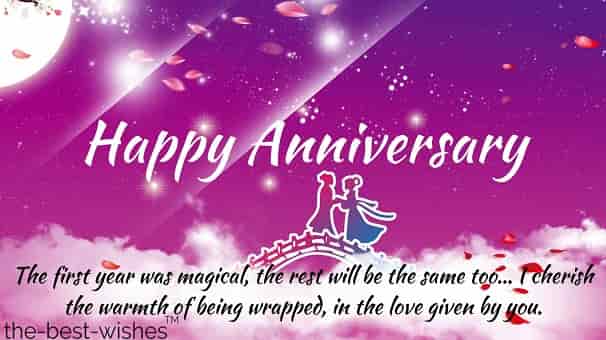 One year anniversary messages for him.
If life gave me a second chance to choose you again without a doubt, it's going to be you. Happy anniversary!
A superman, super dad, a super husband I can't believe God has given me the perfect man.
On our anniversary, I thank God that we met. I love you, my baby. I'm so excited and happy that we are together.
Happy Anniversary to the most handsome man and I'm so grateful and lucky that our paths crossed all those years ago.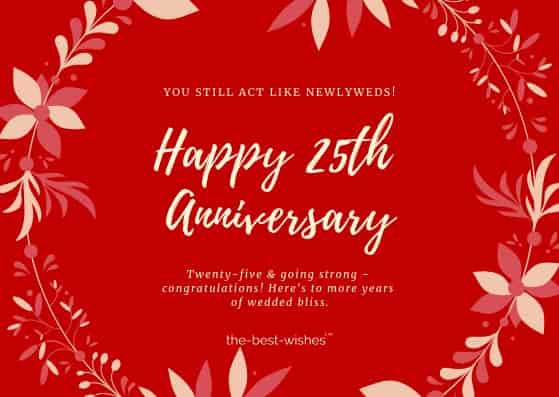 Happy 25th anniversary for a husband.
Baby, you are only my true love. Lots of love and kisses to the loveliest person I have come across. Wishing you a happiest of anniversaries the best is yet to come.
I want to wish you a happy anniversary for coming in my life, and May God bless you. From day one until today thank you for being the best husband.
Happy Anniversary, my love! May our marriage filled with laughter and love forever. You still give me butterflies.
On our anniversary I want to Thank you for being the most amazing husband in the world! I love you! Happy Anniversary Baby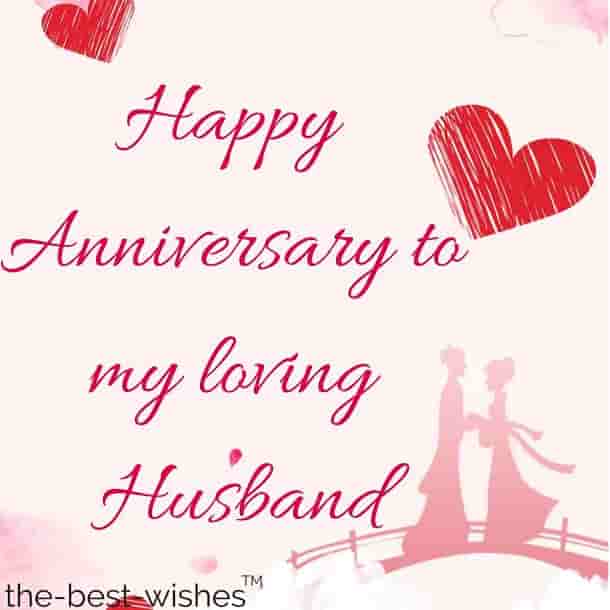 Cute anniversary image
I can't wait to be in your arms. I want to spend my entire life with you. I can't express my feelings I feel complete with you. Happy Anniversary, Sweetheart!
After so many ups and downs I know we are made for each other. Thank you for staying by my side always. It's just the beginning, Happy Anniversary my Husband.
I am convinced that you are the best thing ever happen to me. Today on our anniversary I want to thank you for being a perfect husband. I have always dreamed of you.
Another milestone we have achieved it, I am so lucky for all the happy years and looking forward to sharing with you a billion more years of my life!
Anniversary quotes for a husband.
Your smile makes my day, your hugs make me feel safe, and your lips make me melt I will always love you!
I can't imagine my life without you. I am thankful to God for giving me such a caring, funny, and best husband.
Happy Anniversary to you, my love! Our relationship is getting stronger, and stronger day by day and it's a perfect time, I want to say you are the best dad and lover in the world.
You're not only a great best friend, lover, father, and husband but you're also the best human being. Wish you a happy anniversary!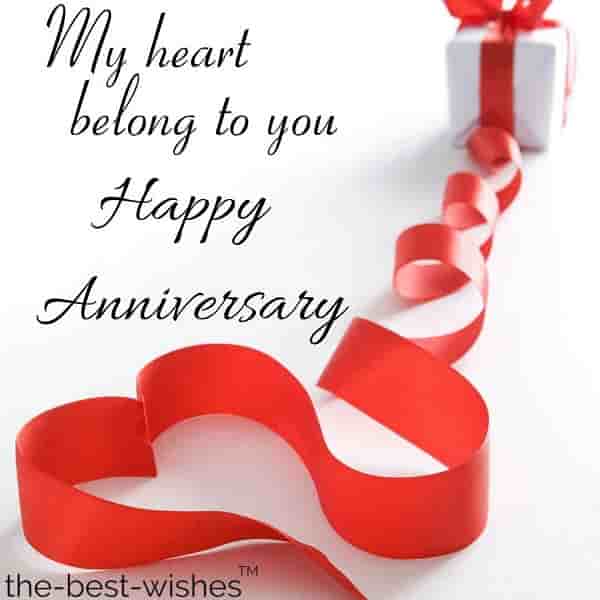 Anniversary message for him.
I can't wait to celebrate our anniversary together. I am thankful for loving me in unique ways, and you mean a lot to me. I'm so excited about the future surprises God has stored for us.
I can't believe we are living together and love all these years. Here's to an anniversary and Thank you so much for making our marriage beautiful! I love you!
Sometimes words fall short to express your feelings. For you, we have collected the best wedding anniversary quotes to help you find the perfect words to make your sweetheart day memorable. Remember his smile, cuddles, ups, and downs during hard times which make your relationship stronger pour out your all feelings on paper before creating anniversary message. For inspiration, you can look at our vast collection of best wedding anniversary messages for him.
Please let us know in the comment section which one was your favorite and share it through Facebook, Twitter, Pinterest, and Whatsapp to make him feel smile.
Hand Picked Articles for You:
200+ Best Wedding Anniversary Wishes For Parents
300+ Best Wedding Anniversary Wishes For Friends And Couples
250+ Best Wedding Anniversary Wishes For Wife