Trust, Commitment, and mutual understanding is the key to a successful marriage. For you, we have collected the best anniversary wishes to friends, for your family members, couples, and loved ones. A small anniversary card can spread joy on this beautiful occasion. Surprise your lover with a call out or by writing a love letter to make them happy.
The Best Wishes Team wishes you happy anniversary and lots of love from us. Below is the romantic happy marriage anniversary wishes collection to make your dear one smile.
The Best Wedding Anniversary Wishes For Friends And Couples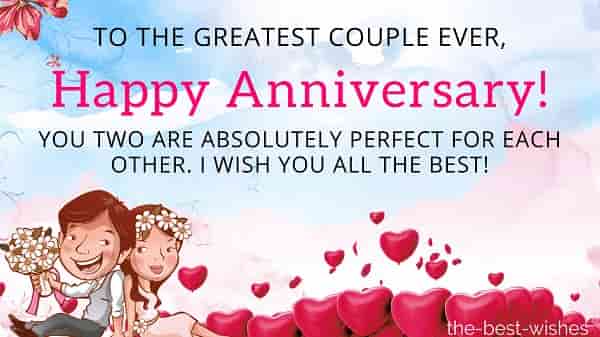 Anniversary wishes
It's real feelings that count, keep a message short and simple. If you are falling short of words to show your love and how much you care, for you, we have collected the heartfelt anniversary wishes.
It's been a beautiful year. Happy 20th anniversary my dear friend! I can't wait for the many more we have yet to share.
There's no sweeter bliss than loving you. Happy sixth anniversary!
You still act like newlyweds! Happy 25th-anniversary twenty-five & going strong – congratulations! Here's to more years of wedded bliss.
To the best couple ever, Happy anniversary! You two are the undoubted perfect couple and made for each other. I wish you all the best!
Congratulations you two will forever be an inspiration of support and love! Best wishes.
To my buzz-worthy bumblebee, Happy bronze anniversary! Let's make honey together for the rest of our lives. I'll never stop loving you, Darling!
A celebration of love happy anniversary! Wishing you many more years of wedded bliss.
And suddenly, life feels like one big room Happy anniversary, my dearest! I love having someone as feel-good as you.
To my loving husband, Happy 10th anniversary! Has it been a decade since our I do's? It feels like it was only yesterday!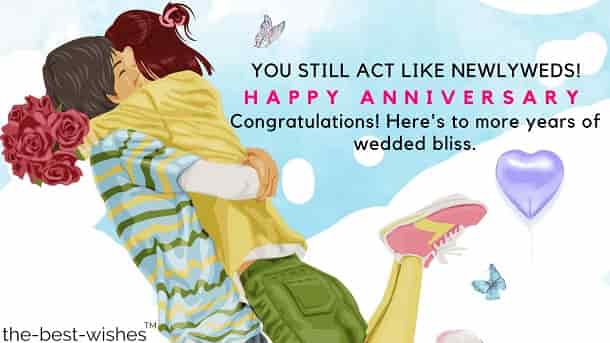 Anniversary wishes for a friend.
Happy anniversary cheers to five years, and the years to come.
Together through thick & thin, you make marriage look easy! I wish you many more years of happy ever after.
Thank you for everything happy anniversary! You make me extremely happy every single day. I love you!
To my significant other you are my world! I'm much more me when I'm with you. I love you, your sweetheart!
Wishing you all the love and happiness to a perfect couple of the world congratulations on your anniversary.
I'm sure your love for each other is immortal, and you both are perfect couple goals example for a newlywed couple happy anniversary.
You both are perfect lovebirds! Happy 21st anniversary!
I pray to God that your love will continue to grow for each other as you get older and older. Sending you warmest wishes on your anniversary!
Lots of love to both of you may you continue to inspire us all. Sometimes we forget that magic is always in small gestures. Make every day magical for the rest of your life.
Two souls united today. Every day is getting better and better with you. Wishing you a happy married life.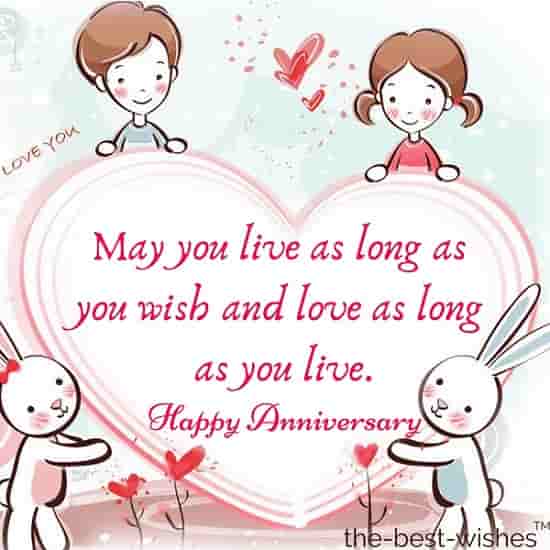 Blessed anniversary wishes.
One more magical year to celebrate. Enjoy your journey ride together forever.
It warms my heart to see that you still love each other more than last year God bless you both.
You did it; the wrinkles are the sign cover on your face that your marriage has survived forever. Happy Diamond anniversary!
Falling in love is easy but staying together forever is hard. You both are the best couple.
You two are motivation for the real secret to a happy marriage. Here's to wishing you both happy wedding anniversary.
May your every day be colorful with joy and happiness as your wedding day.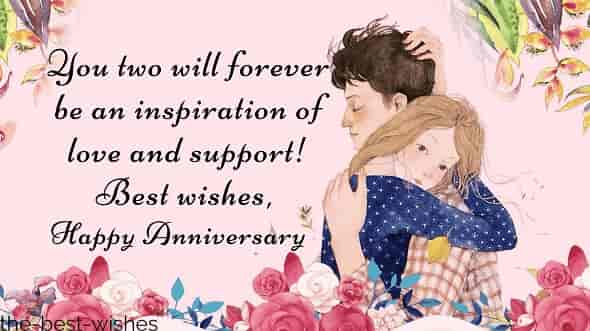 Happy anniversary to you.
Finding a perfect better half is the key behind a successful marriage, and you are lucky because the person is standing next to you. Wishing you a very happy anniversary.
After all these years, you have set another benchmark for us. I wish you a happy anniversary.
A wedding anniversary is a day when two best friends and lover said I do. Your love has gotten stronger since the previous year.
The wedding is similar to wine. All two improve and continue to refine with time.
The wedding anniversary is a day to celebrate Today, yesterday and tomorrow. It couldn't have been easy for so long, but you two make it look so easy for us.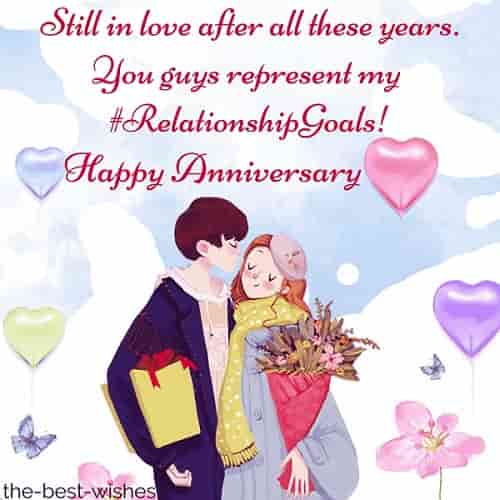 Happy marriage anniversary.
You are one of the best couples, I have ever seen, I want to wish you a happy anniversary!
I remember when you guys tie the knot of your relationship. You are one of the beautiful and romantic couples I have ever seen.
Trust and Respect are the most important bond of marriage for their partner. You have enough of that; I wish to God that you stay like this forever.
A decade has passed, and your love is same as when you tie the knot. I'm in love with you two who love each other blindly.
I love to see it, you are a perfect couple, who love and care each other unconditionally.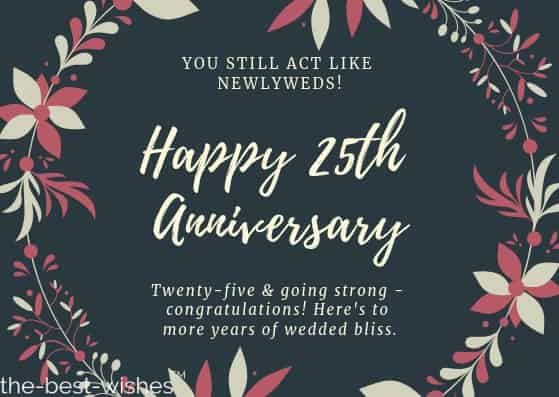 25th wedding anniversary wishes card.
It is my wish that God helps to grow your bond stronger every day and may your all day be much more exciting.
Happy 2nd anniversary! You lovely lovebirds. Be happy, and sweet forever.
The best title of the best couple should be awarded to us. Happy first anniversary!
I'm so jealous of you both. God has made your match in heaven may the bonds between you get stronger each day.
Happy third anniversary! To the most awesome couple, I know.
Happy 4th anniversary! Wish you a happy marriage anniversary and may your love grows stronger every year by year.
You guys have been together since the six-year I'm so happy for you two.
I'm so happy for you. From best friends to your 7th wedding anniversary, you two always seem to make couple goals.
It's your mutual love and understanding that has kept you both going for so long together you took your relationship to the next level.
Congratulations on your marriage anniversary, True love has won, and glow on your face and eyes are the best way to understand it.
I wish your anniversary celebration to be perfect. Our best wishes to the most beautiful ideal couple!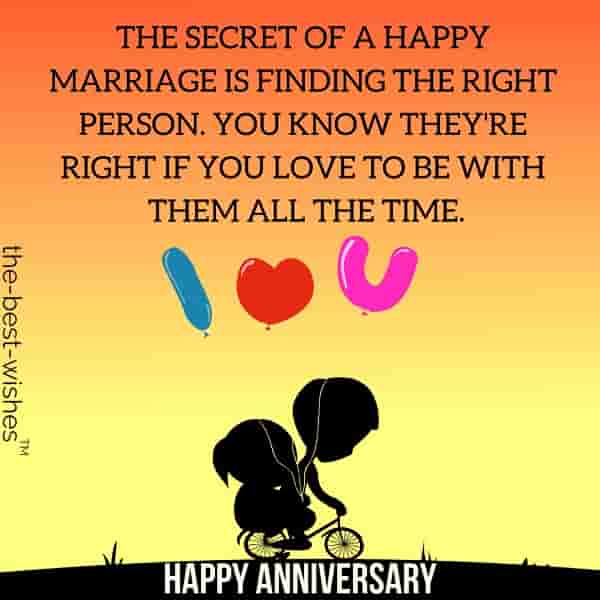 Happy wedding anniversary.
A successful and happy wedding marriage life requires to fall deep in love again and again with the same person.
Nobody is perfect but your love that has kept you together for so long happy 8th anniversary.
Your anniversary has proved that love doesn't depend on material wealth. Happy 9th anniversary!
No matter where you are the love and time spent between two people throughout these years never fade. You are a real example of a long distance relationship. Happy anniversary!
I pray to God to shower more love and blessings on this special anniversary day on both of you.
New days, a new chapter and another new year for you two. Mom and dad, you are the best parents in the world. Have a marriage anniversary filled with love and joy.
May every day that pursues your life give real meaning to a lovely relationship.
It's so sweet to see the way you hold hands and care for each other.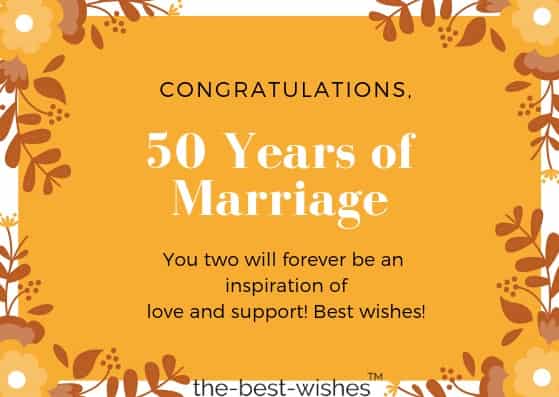 50th wedding anniversary wishes for friends.
Lots of gifts, are going to shower on you but the best is your yearly subscription to each other.
I wish your love keep going on strong loving each other for the rest of your days.
I wish happy days filled with happiness, laughter, and love follows you both till the end.
Wishing you both a very happy anniversary to a beautiful couple, you have inspired us by your commitment to one another.
Another year of wedding bliss, you deserve the best and nothing else.
Remember all the joyous steps that you both have taken together we wish you all the laughter and love. Happy 40th anniversary!
I still can't believe that you are with me. Have a happy anniversary my friend.
I still remember your beautiful face when you were walking down the aisle it was the best day of my life.
I wish you a happy journey for many more decades to come. Happy anniversary my dear friend!
Here's to the perfect pair we know while some claim fairytale wedding couple is a myth, but you both are the best example of that.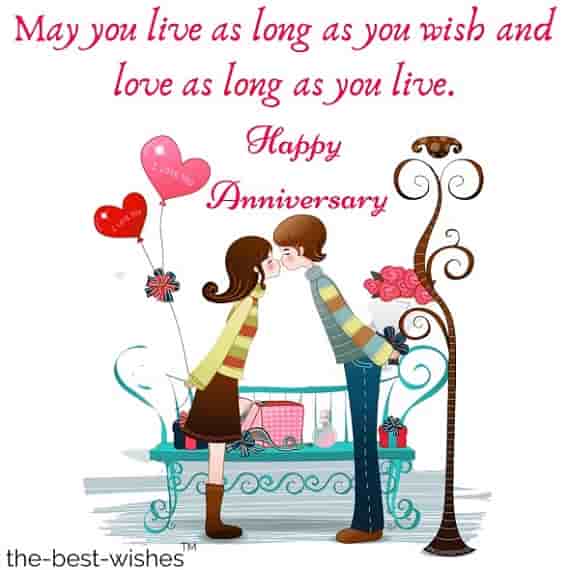 Marriage anniversary wishes.
Cherish every day of your life and live every moment in joy. Congratulations to both of you!
God has made your bond in heaven, and no one can break it. It will last forever. Happy 45th anniversary!
Some celebrate their weddings on 5th, 10th, 25 or 50th instead of that make every day special.
It's lovely to see you both together as a beautiful and happy couple.
Your vision may fade as time pass, wrinkles will cover your face, but I'm a hundred percent sure your love for each other will last forever.
I wish you all the best, and I'm happy that you survive all thick and thin time without any fight. Happy wedding anniversary to both of you!
Your love is deep and may it get stronger and stronger, so many years have passed, but you still love each other literally as same old days.
Happy anniversaries with lots of best wishes you're a couple to cherish.
I wish you a happy married life, and the reason behind your successful marriage is that you both don't just love each other from outside beauty but from inside too.
Here we have collected the warm closing anniversary message to wrap up an anniversary card.
Best wishes on your wedding anniversary!
I hope you liked our collection of quotes and messages. For you, we have collected the silver, ruby, gold, and diamond anniversary best wishes to make your loved ones happy. We have the milestones anniversaries wishes collection but all year such as 1st, 30th, 45th, and 55th-anniversary messages also for you. Please let us know in the comment section which one was your favorite. Also share it on Facebook, Twitter, and WhatsApp.